Fictional Feasts is a project that I'm really excited to begin, because it mixes together my love for reading, my love for baking and cooking, and my love for photography. Over the next few weeks, I'll be trying to make some of the foods that are talked about in some of my favorite books. I hope you enjoy seeing the results!
"A little beer would suit me better, if it is all the same to you,
my good sir," said Balin with the white beard. "But I don't mind
some cake
— seed-cake, if you have any."
"Lots!" Bilbo found himself answering, to his own surprise;
and he found himself scuttling off, too, to the cellar to fill a pint
beer-mug, and then to a pantry to fetch two beautiful round
seed-cakes which he had baked that afternoon for his after-
supper morsel."
The Hobbit (p.9), J. R. R. Tolkien
Yesterday I made Seed Cake, which is a traditional British cake mentioned in Tolkien's books as a favorite treat of the Hobbits. I had never made anything like it, so I was excited to see how it would turn out.
I really liked how the cake turned out. The caraway seeds and the orange zest give it a very unique flavor. My family liked it, too - there wasn't much left of it by the end of the day!
If you're wanting to try out something different, I definitely recommend giving this cake a try.
There are lots of seed-cake recipes out there. I used
*this one*
from"The Hobbit Second Breakfast" website. For those of you in countries that use different measurements, though, you might find
*this recipe*
more convenient.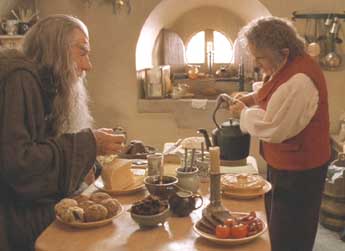 I wanted to ask you all:
Are you interested in seeing more
Fictional Feast
posts?
If so, do you have any ideas for other treats talked about in books? I'd love to hear your ideas.
love,
Hannah