Peoples! It's been EMBARRASINGLY LONG since I've last posted. I was in a blogging slump. IT'S HARD GETTING BACK INTO BLOGGING. Hope you all are doing well!
WHAT TIME IS IT?
ADVENTURE
FICTIONAL FEAST TIME!
My new-found love for the show
Adventure Time
inspired me to try to recreate an iconic breakfast from one of the episodes - bacon pancakes.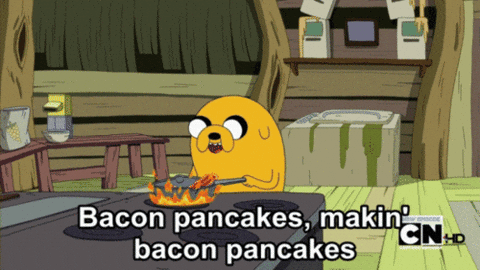 I used a
new recipe
for the pancakes, which turned out to be a really good one. The pancakes were fluffy and buttery.
The little bro and I fried up some bacon pieces until they were super crispy, and then we threw that into the pancake batter.
The result: perfection. Complete deliciousness.
The only change I would make next time is to leave out the salt from the recipe. The bacon is salty enough already.
Of course, while Caleb and I were whipping these up, we were similtaneously rocking out to this
Bacon Pancakes remix
. It's our heart song.
Do any of you watch this show? If so let me know so we can fangirl together.
|I made this for my one of my binder covers next semester. No shame.|
So. Basically. Bacon + Pancakes = The Best Thing Ever.



Love,
Hannah