sixteen rather interesting things that happened in twenty-sixteen:
i. I finished my first year of university, and began my next.
ii. I roadtripped to San Francisco. (!!!)
iii. I turned twenty years old.
iv. I got to know Los Angeles a little better. (we're friends now)
v. I went to Disneyland and Six Flags.
vi. I made some friends that have become sort of more like family. (don't tell them I said that)
vii. I spent spring break with some friends up on a snowy mountain.
viii. I joined my school's theatre program. I had the privilege to be on the props crew for
Fiddler on the Roof
and Y
ou Can't Take it With You
.
ix. Went to my first formal party thingy and wore a pretty dress.
x. I started working at the school cafeteria. (gee, what fun)
xi. I presented a 20-minute message for dorm chapel, and I didn't die. (I was close though)
xii. I nannied for a two-year old for the summer.
xi. I joined my university's choir.
xii. I climbed most some of Croagh Patrick.
xiii. Fell in love with
Adventure Time
,
Stranger Things
, and
Over the Garden Wall
. Oh, and
Pushing Daisies
. And
Dirk's Holistic Detective Agency
. (How on earth did I find time for all of that)
xiv. Went on a family holiday to County Kerry, and took a boat to Skellig Michael (A.K.A Luke's Island from Star Wars VII)
xv. Went to a mystery-themed costume event with the Watson to my Sherlock (pictured above).
xvi. Shot a gun. (it was too loud)
xv. Spent too much money on coffee.
xvi. I pulled my first (and hopefully my last) all-nighter.
It's good to look back on the past year as a whole. It was a big, full year. And it was a pretty good one.
I'm going to be honest. There were rough patches. The past semester was a kind of a downer for some weird reason. It wasn't like something super bad happened or anything. But there just seemed to be this underlying problem that shadowed everything. Instead of trying to figure out what I was doing wrong and why everything was crappy, I just ignored it and went on with life. And that just made everything continue to spiral down into a scary hole of badness.
It was only at the end of the semester that I started to realize why. Throughout the past semester, I was relying on my own strength. I didn't realize I was doing this, until it hit me all at once. I started to realize that I had been thinking that I was capable of doing everything on my own. I thought I could fix all of my friends' problems, and I thought I could get through classes and homesickness and the issues of daily college life without asking the Lord for strength. I thought I was fine on my own, but by the end of the semester, I was starting to crumble under the weight of it all.
Like, remember that scene in Monster's Inc where Sully is just helplessly watching the garbage compactor squish Boo (or so he thought) into a little cube. THAT LITTLE SQUISHED CUBE WAS ME.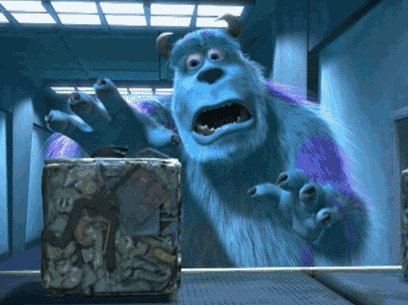 Anyway.
I realized that dependency on the Lord is what brings true joy. I
can't
do it on my own, and I never will be able to. Like, ever. And that's a beautiful thing.
It took me too long to realize that.
'My grace is sufficient for you, for my power is made perfect in weakness.' Therefore I will boast all the more gladly of my weaknesses, so that the power of Christ may rest upon me. For the sake of Christ, then, I am content with weaknesses, insults, hardships, persecutions, and calamities. For when I am weak, then I am strong.
2 Corinthians 12:9-10
Here's to a new year of new adventures and new friendships and new lessons learned. And maybe some new Netflix shows, cuz let's face it, those rock.
love,
me